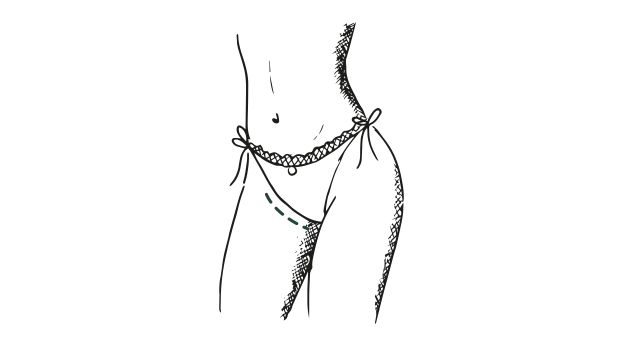 Labia Surgery
What is labia surgery?
Are you bothered by the shape or size of your inner labia? For example, is this a cause of pain during sex or sports? Labia reduction could be your solution. Although you might not hear much about it, labia reduction is becoming increasingly common.
During surgery, excess tissue is removed to reduce the size of the inner labia (labia minora). The outer labia (labia majora) are not reduced during the procedure. The tissue is removed in such a way that the function of the inner labia is fully preserved. The procedure is performed under local anaesthesia. No referral from a general practitioner or gynaecologist is needed. To request treatment, just contact Faceland.
What does the process look like?
The procedure of labia reduction is as follows:
Online consultation
Operation
Recovery
What happens during  labia surgery?
ALabia reduction is performed under local anaesthesia. The treatment takes an average of 45 minutes. First, the area to be operated on is cleaned. The amount of tissue to be removed is then determined, and the labia are marked. Then it is time for the anaesthesia, which will require a few small pricks in the labia. Although this is unpleasant for most women, it will ensure that you do not feel anything during the actual operation. Once the anaesthesia has taken full effect, the excess tissue is removed and the blood vessels are cauterised to stop the bleeding. The last step of the surgery consists of suturing the labia. Because the sutures are dissolvable, there is no need to have the stitches removed. They will disappear on their own within about four weeks.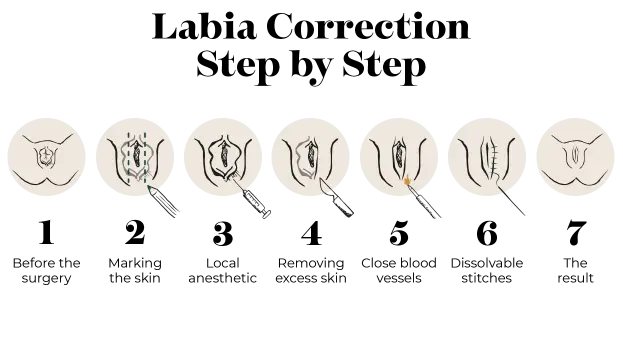 HOW DOES THE ONLINE CONSULTATION WORK?
HOW DO I BOOK A CONSULTATION?
HOW OLD DO I HAVE TO BE FOR THE SURGERY?
ARE THE DOCTORS TRAINED?
HOW LONG DOES THE SURGERY TAKE AND CAN I BE SEDATED?
WHAT SHOULD I PAY ATTENTION TO AFTER LABIA REDUCTION?
WHAT SHOULD I KNOW ABOUT RECOVERY AND WILL I BE RESTRICTED FROM DOING ANYTHING AFTER THE PROCEDURE?
WILL I NEED TO COME BACK FOR A CHECK-UP?
WHAT SHOULD I KNOW ABOUT PAYMENT AND ARE THERE ANY ADDITIONAL COSTS?
I HAVE MORE QUESTIONS